10 Mistakes To Avoid During Your Next Website Redesign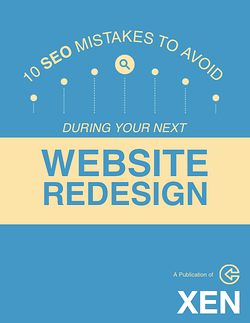 Hi there there
Here at XEN, we want to make your life as easy as possible. That's why we've developed this ebook -- so that you can learn how to avoid costly SEO mistakes on your next website redesign project.
We all know how important a website is to a business's online strategy, but what does it really take to have a great website that drives visitors, leads and revenue?
This free, 20-page guide helps you to avoid some of common SEP mistakes companies make.
Once you read this Ebook, you'll understand:
how how to do an audit of your existing site
ways to do keyword research
the importance of 301 redirects
why you should check links to your site
the best way to move from staging to live
why adding analytics is crucial
Grab your free copy over on the right, and ensure your next website development project is on the right SEO track!