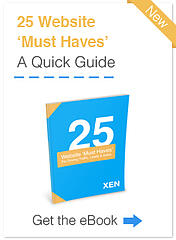 Here at XEN, we want to make your life as easy as possible. That's why we've developed this ebook -- so that you can learn how to have a killer website.
We all know how important a website is to a business's online strategy, but what does it really take to have a great website that drives visitors, leads and revenue?
This free, 53-page guide is the ultimate resource to having a killer website.
Once you read this Ebook, you'll be able to:
How to get found online with search engine optimization (SEO), including building inbound links, meta tags, and more
Important design and usability factors you need to know
Tips for creating content that attracts and keeps visitors on your website
Best practices for converting traffic into leads, including Calls-to-Action, Landing Pages, and Forms
Grab your free copy over to the right, and start optimizing your website with these must-haves!